TOA: Why Do We Fear Innovation?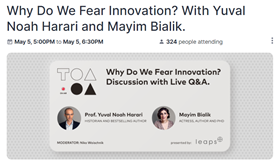 Leaps Talk: Why Do We Fear Innovation?
We have a lot of questions, and we're sure you do too.
Join for the talk, stay to ask questions. Live Q&A with Yuval Noah Harari after the conversation.
A conversation featuring actress, author, and neuroscientist Mayim Bialik and historian, philosopher, and bestselling author Yuval Noah Harari, moderated by Tech Open Air founder Niko Woischnik. Presented by Leaps by Bayer.
From the printing press to vaccines to artificial intelligence, the introduction of almost any transformative technology has been met with wonder as well as fear and rejection. Many of history's greatest inventors were considered heretics – the archetype of the mad scientist exists for a reason. Why does the 'new' still scare us? What does it take to build acceptance for transformative ideas? How does the unprecedented scientific progress to deliver COVID vaccines influence this? What role does disinformation play in shaping our fears? How can we ensure innovators consider ethical issues, so outcomes can lead to the betterment of people and the planet? What can innovators learn from artists and creators of fiction?
Register here.
About Leaps by Bayer:
Leaps by Bayer invests in paradigm-shifting advances in the life sciences – targeting the breakthroughs that could fundamentally change the world for the better. Their approach is making significant and sustained investments in disruptive biotechnologies that could have the greatest impact on humanity. Learn more here.