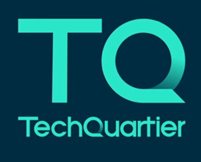 TechQuarter: Know Your Customer Pitches
Opportunities to meet in person have reduced considerably since the start of the crisis. As an important part of the TQ experience, we need to find more ways to connect, which is why we've come up with ICEBREAKERS.
On February 17th, 2022 from 11:30-12:30, TechQuartier is hosting an edition about the topic "Know your Customer".
The concept is simple
We gather online to hear startups from the ecosystem pitch their businesses to a diverse audience. The goal is to give them visibility, provide them with some feedback on their pitch, product or business model, generate some excitement around what they're building and hopefully create some meaningful connections between the participants.
Presentations are in English.
The participating Startups:
Blockchain HELIX: Blockchain HELIX offers a verified, secure and self-sovereign Digital Identity for every citizen in Europe. helix id is your smart wallet for your digital life. In the helix id smart wallet, you can digitally and securely store your official identification documents such as ID card, passport or driver's license, as well as event tickets, health and vaccination certificates and much more. Stay digitally smart!
Authenteq Tarbena GmbH: Authenteq is the world's first fully automated identity verification platform. Their AI-powered eKYC system allows companies and services to onboard users in just 35 seconds with a verification process that requires only one piece of government-issued ID, a selfie, and a liveness check. Built on the seven key principles of Privacy by Design, fully GDPR compliant, and ISO 27001 certified, Authenteq offers a safe and secure approach to identity verification at scale.
Qundo Technology GmbH: Qundo is the future of digital identity verification. With our Smart-Ident solutions, we accompany the legitimation & verification process. For you, this means the greatest possible security and a significant cost advantage. Your customers benefit from a process that is as fast as it is uncomplicated and user-friendly, always and everywhere.
IDnow: IDnow is a leading global identity proofing & verification platform with the vision to make the connected world a safer place. The IDnow platform provides a broad portfolio of solutions, ranging from automated to human-assisted from purely online to point-of-sale. Each method is optimized for excellent conversion rates and best in class user experience while ensuring the highest security standards.
myEgo: myEGO provides a decentral identity management / SSI infrastructure that allows users to manage their verified digital identity assets while maintaining full control of that data
Register here.