Forward Fooding: Alternative Proteins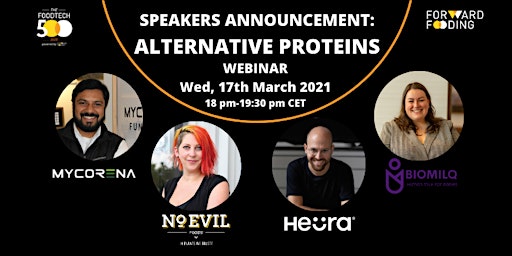 At Forward Fooding, our mission is to showcase the global startup talent at the intersection of food, technology and sustainability.
The FoodTech 500, the Fortune 500 of AgriFoodTech showcases companies (from early-stage startup to scaleup businesses) that are building and scaling AgriFoodTech businesses, addressing the rapid need for change across the food system.
During the third event of this series, we will be featuring some of the alternative protein companies from this year's Food Tech 500. Join us as we showcase 2020's definitive list of the most inspirational businesses in the world of AgriFoodTech, and deep-dive into the amazing entrepreneurial talent behind these companies.
We will also be joined by some top-notch speakers from the '2020's FoodTech 500 pack' to learn more about their businesses via a panel discussion.
So tune in as we sit down with FoodTech experts and leaders to learn the latest about the alternative protein sector.
Agenda:
18:00 – 18:10 –  Introducing the FoodTech 500 by Alessio D'Antino, Founder & CEO of Forward Fooding
18.10 – 18:15 – Overview of the Alternative Protein sector by Alix Chausson, Senior Consultant at Forward Fooding
18:15 – 19:20 – Panel discussion with selected representatives from some of the 2020's FoodTech 500 companies and moderated by our MC, Michiel van Deursen.
19.20 – 19:30 – Q&A and final remarks
A special thank goes to our sponsors: Neom & Rothamsted Enterprises
We look forward to seeing you there as we (virtually) taste the future of food!
The Forward Fooding Team