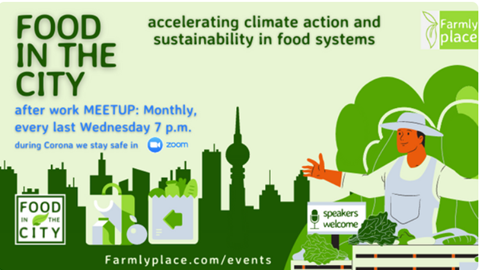 Food in the City: Biophilic Design
Biophilic Design is the practice of connecting people and nature within our built environments and communities. While progress has been made to communicate what Biophilic Design is and to demonstrate why it is crucial to a Living Future, very little information has been communicated concerning the process of how to achieve it.
This Food in the City panel event will discuss how Biophilic Design can be implemented more widely. Key discussion topics are:
Clearly defining biophilic design and people's positive and negative perceptions of it in cities.
First steps & critical considerations needed to build biophilic cities.
As we all know the carbon-centered approach to sustainable architecture, why don't we shift to a more human-centered approach?
How we can work to reverse the trend of urban disconnection from nature and improve the overall well-being of our communities.
How can biophilic design benefit our everyday lives and the perception of food?
Speakers:
– Naho Iguchi – Give Space Director & Chief Community Catalyst at NION
– Tim Lüschen – Junior Sustainability Catalyst at BUFA
– Asha Singha – Executive Design Lead at Biomimicry Frontiers
…. and YOU!!
Tickets here.