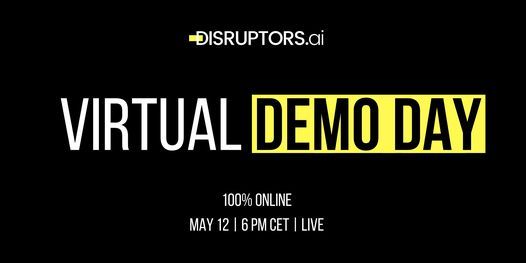 Disruptors: Virtual Demo Day
The DISRUPTORS team invites you to join our online Demo Day! Discover top emerging startups developing disruptive technologies, gain new insights into the European startup ecosystem and connect with 300+ prominent investors, business coaches, serial entrepreneurs, and corporate executives.
DISRUPTORS – Democratizing access to entrepreneurship:
At DISRUPTORS, we believe that for every Gates or Musk, there are millions of entrepreneurs who don't reach their full potential due to lack of access to knowledge, capital, network and growth resources.
We leverage an active learning environment to democratize access to business opportunities for global founders via a fully customized 5-weeks venture development program, aimed to accelerate route to market, gain customer traction and secure initial capital funding.
About the event:
Join us for a special pitching event where the cherry-picked teams will showcase their technologies, recent strategic developments and future outlook. This 2-hours event will be delivered fully online and is accessible via any device.
Agenda:
DISRUPTORS opening remarks
5 minutes startups pitching
Special Announcement
1-on-1 networking event and startups Q&A
Presenting Teams:
Algomo – A multilingual Customer Service AI
Aryel – Bring AR into your marketing mix
Audienz – Tell your Story
Codemap – Hire no-code/low-code freelancers
Crossplag – The only cross-language plagiarism detection tool
Flo Mobility – Autonomous electric two wheelers
Huzzle – Huzzle Cast Enigma
Jarvis – ??
Register now and grab your free ticket to the DISRUPTORS Demo Day event. Please feel free to share this event with your friends, colleagues and network partners!